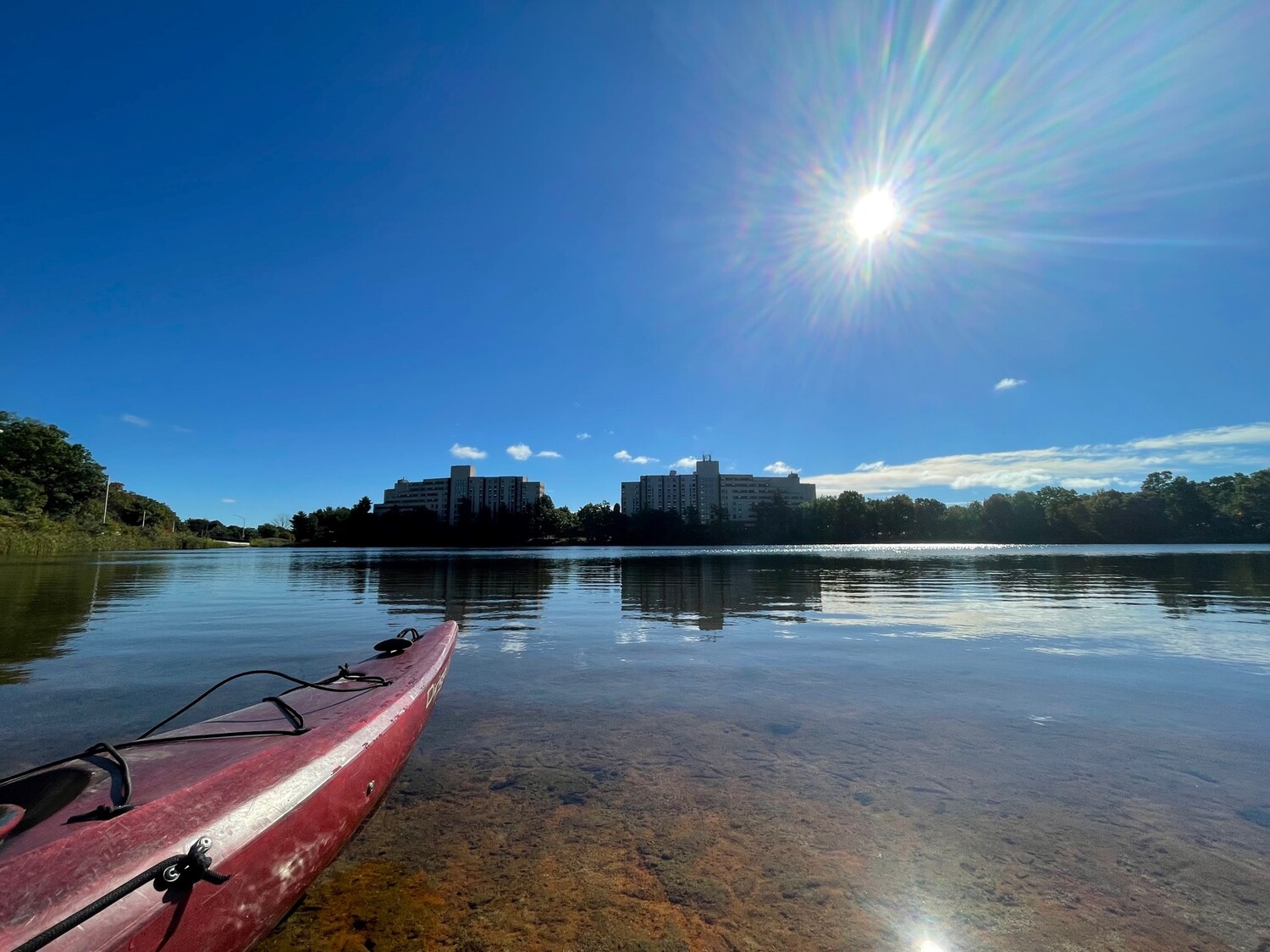 Healthy Watersheds
We envision a Worcester where our waterways are healthy, safe for their designated recreational uses, and accessible to all residents.
Keeping our Blue Spaces Beautiful
Worcester is home to over 20 lakes and ponds that support a variety of recreational activities, including bird watching, walking, swimming, fishing and boating. The City recognizes these "blue spaces" as valuable resources and strives to maintain the quality of these waters for recreational use and the promotion of economic development.
To that end, the City runs the Lakes & Ponds Program, which keeps our watersheds healthy with full-time monitoring, managing, and extensive outreach and engagement.
Monitoring for Environmental Threats
Whether they're tracked in on the bottom of a boat or rain boot, invasive plants make their way into our lakes and ponds. These species, Cyanobacteria (algae), Eurasian Milfoil, Thinleaf Pondweed, and more, can strangle the delicate aquatic ecosystems in place. The Worcester Lakes and Ponds Program fights these invasive intruders by constantly monitoring and testing for their presence, as well as providing the public with information and resources to prevent accidental introduction.
Innovation in Water Protection
The City is at the forefront of a lot of innovative technology when it comes to improving our waterways, including invasive aquatic plant mitigation, and nutrient management.
Our Lakes and Ponds program runs a state-of-the-art alum dosing station at Indian Lake to mitigate the invasion of harmful invasives. The station is a novel approach to cyanobacteria management that targets and immobilizes excess nutrients as they enter a lake to reduce lake closures due to cyanobacteria blooms. This station is only the second to be built in the state.
Outreach & Strategic Partnerships
Leveraging Strategic Partnerships throughout the City
The Lakes and Ponds Program leads extensive outreach and engagement efforts to involve everyday residents in the process of water protection:
Through the Worcester Cyanobacteria Monitoring Collaborative, we have trained over 30 community scientists volunteers in 2021 and over 50 in 2022 on how to collect and analyze lake water samples.
The City organized a volunteer invasive aquatic plant pull at Coes Reservoir where 15 volunteers removed vegetation from the lake in 2022.
The City hosted the Angler Event Series, which was a series of 13 fish and fisheries health related events over 9 months put on by collaborations with local and state agencies.
Outreach & Strategic Partnerships
To get residents interested in watershed protection, the Lakes and Ponds Program staff go out into the community and host events to meet with residents and bring them into the fold:
We partnered with three student groups from local universities to do research on waterways in 2022 and 2021, as well as spoke to with three college classes on water quality topics in 2021 and 2022.
We participated in the Art Exhibit "Endangered" at the JMAC which featured photographs of cyanobacteria taken by community scientists in 2022, as well as in the "Urban Green and Blue" Speaker Series presented by Preservation Worcester to talk about Cyanobacteria and Community Scientists in 2021.
The City organized the Annual Rain Barrel Event in 2021 and 2022, in which over 60 and 80 rain barrels were distributed respectively.
Join the Effort to Protect Our Watersheds
---